An island booth is a booth that is 20' X 20' or larger and is exposed to traffic from all four sides. Maximize traffic exposure from all four aisles by leaving all four sides open when designing your booth. This will maximize entrance options into your booth from the aisles. Our graphic design team is the experts in spotlighting your brand on the show floor.
Island booths afford you the opportunity to grab attention with towers and hanging signs and you want to take full advantage of the available spaces to showcase your brand and messaging. Increase your exposure with a custom island trade show display.
If you prefer fabric graphics, we will design your island exhibit to highlight your brand in vibrant colors. Dramatic lighting, the latest in flooring options and modern furniture all contribute to setting your island booth apart from the competition. Add elements such as workstations, kiosks, product displays, counters, and flooring to customize your island display that is truly one of a kind. Let our highly-skilled in-house creative teams help you take full advantage of your island booth experience. From efficient space planning at the very beginning to a stunning island exhibit structure and the final attention-grabbing graphics that convey your messages quickly and effectively to show attendees.
Our exhibit design team will provide you with the optimal design that fits your island booth space and budget while offering the best opportunity to showcase your brand and messaging. Our exhibit designers, graduates of the renowned Bemidji State University, possess extensive knowledge, experience and creativity and they assist you every step of the way.
For over 25 years, we have custom designed every island booth to help our clients stand out on the show floor. With one of the largest booth designer in the country, we offer virtually unlimited choices of structures and materials, all tailored to your space requirements, brand and budget. Our creative team will guide you through the process of identifying those spaces and placing your graphics.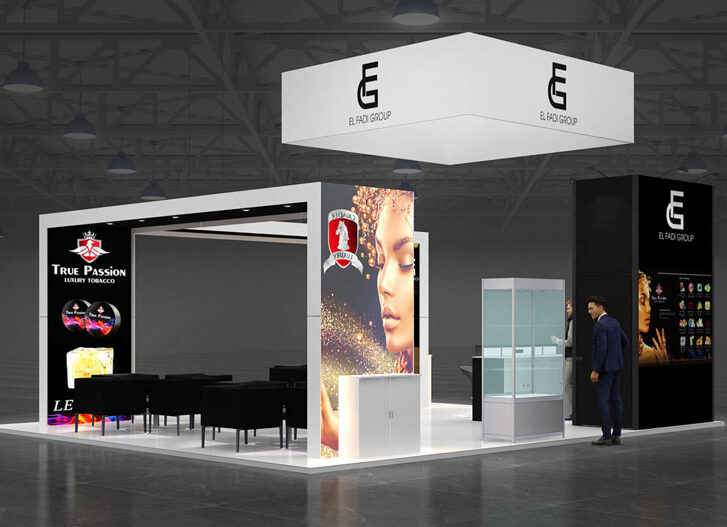 If your company has identified the many advantages of selecting an island exhibit and space to maximize your trade show presence, contact us today and start increasing your trade show exposure! We provide full in house graphic design services or we will be happy to assist your marketing team or agency as needed.