Two story exhibit displays or double deck displays keep on growing more fashionable at trade shows. They let you expand and sometimes double your booth space without adding to your budget. They also let you create a separate area for conferences, demos, sales, or whatever you'd like. That'll make your attendees feel unique and special.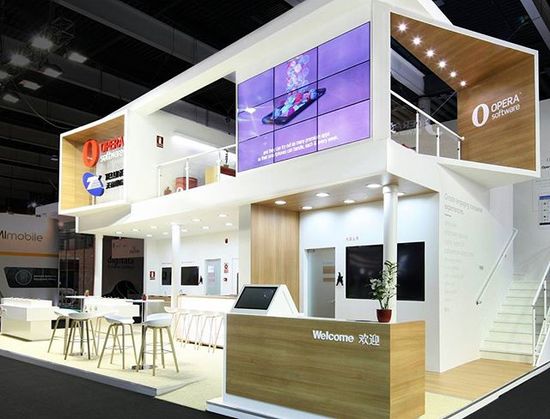 Why double deck booth design?
Two story exhibits, aka double deck booths, are becoming more popular these days for exhibitors.  Double deck booths allow exhibitors to maximize their space with room on the second story for lounges, conference rooms or even private demo rooms that create a VIP experience. Double deck exhibits can allow exhibitors to gain more space without the expense of renting larger floor space. The double deck booth structure can be used in spaces as small as 20×20.  Double deck exhibits project a solid image of stability and portray your company as an industry leader.
With us, you can select from a variety of exciting double deck booth design. Our double deck exhibit structures occupy a minimal footprint, allowing you to use them in a smaller booth space.  With a larger space, you can add a tower, lounges, additional meeting rooms, product displays and demo stations, a theater, or whatever else you need to accomplish your goals.
Let our industry-leading creative team design eye-catching graphics that will bring your double deck exhibit to life. Our double deck design allows plenty of opportunities to incorporate vibrant signage into your display. Our award-winning design team will guide you through the process and create a double deck exhibit that will exceed all of your expectations.  Our concierge team will assist you with navigating the rules and regulations that are unique to double deck exhibits.
We are one of the famous designer in Malaysia which have over 10 years of experience in this industry. Our award-winning exhibit designers will help you create the perfect double deck booth. We usually specialize in Kuala Lumpur, which is the main city in Malaysia. We have company at KLCC, KL Sentral, Subang Jaya, Puchong, Klang and Sunway. You are welcome to come to the door for more details.
Did you know that trade show exhibit rentals provide savings of up to 40% over purchasing? Look to us, the premier designer in Malaysia to design the perfect double deck booth for your next trade show. If you aren't sure whether a double deck exhibit is right for you, we will help you decipher the pros and cons.  Don't forget to plan early!